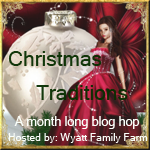 Christmas Traditions:
Up until this past year we never really had any traditions between Keith and I. We tried to start a few things, but it never really stuck. I love to bake, but we are watching our waistlines, so I don't. We don't have people come over that much so there is really no one to eat them for us.
Really the only one that we had was that each year we purchase a new ornament for the tree of something we did this past year.
Of course we did the whole family thing.
And we celebrate for as long as possible, our tree goes up before Thanksgiving.
Well we have a baby now. Okay we have a child now, she is still a baby for 7 more days. ***CRY***
We have added a tradition or two.
1. We get her a new ornament every year. One that has significance for this year. This year we bought her an Elmo. She loves Elmo, so much so that I read a Sesame Street book 3 times today.
2. We purchase the whole family a new pair of PJ's to wear Christmas morning.
3. We make a big breakfast that morning, after we open our gifts.