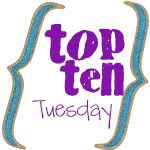 Well yesterday's post I spoke about God's will and being obedient to what He wants in our lives. So, a little known fact is that I try to read a chapter of the bible during breakfast every morning. I read it out loud for two reasons. One, I understand better when I hear things. Two, it is never too early teaching Kaitlyn about the Word. We are currently reading the Book of Romans and we are only on Chapter Two - the whole chapter was about sin and obedience. How we are supposed to obey God's Laws. So OBVIOUSLY God is trying to talk to me about being more obedient.
Here is my TOP TEN. Ten Things that I will be obedient with this week.
I will respect my husband by looking attractive for him. This means that I will have my hair done and make up on by 4pm in the afternoon. I will also be dressed in more than at home mom clothes. Even if I can justify my yoga pants by saying I am going to the gym after dinner! How is this being obedient to God? God wants me to fulfill my husband's needs for respect and an attractive spouse.
I will send out 10 faxes Tuesday through Friday for marketing the business that I truly see as a gift straight from Him. (I should really blog about the beginnings of Touch of Home Learning sometime.) I will send out 5 more on Tuesday and Wednesday since I did not send out any on Monday. (This is already done for the day as I type this.)
I am working on building the traffic to the blogs. At some point I would like these to create income. I will follow 10 new blogs everyday.
Touch of Home Learning e-Books are another gift from God - given to us through a very unlikely source. Another blog post at some point. Anyway, these are great resources that people need to know about. I will contact 2 people per day about reviewing the book. (If you are reading this and would like to review it - comment with your email address and we can chat.)
The blogs now look great. Especially the Touch of Home Learning Blog. I will determine this month's theme and have a new activity posted everyday.
I will determine what Activity Kits stay, which go and which will be added. We will be including a Christian based activity kit each month.
I will work on my personal goal of losing weight by making sure I drink 1/2 gallon of water today and get to the gym (weather permitting). If weather does not cooperate I will be working out with exercise on demand in the great room after Kaitlyn goes to bed.
I will pass all worries and doubts to God. I can't do anything with them and all they do is paralyze me from being obedient.
I will maintain the areas that I cleaned the house last week. I will continue to get the house clean. This week I will focus on hard floors and windows. (We want to move as soon as possible keeping up on these things will make cleaning after we move so much easier.)
I will continue to pray that I am reflecting God's light and being the best (fill in title) I can be today and everyday.
(Printed to keep a visual reminder)
So what could be your TOP TEN? This is such a fun hop. Go check it out!
These are other places I hopped to today.