I have not hopped in a week, or more. Maybe 10 days. It's probably because I have been pretty busy with work. Summer is starting to book and we are in heavy swing of marketing "60 Quick and Easy Science Experiments with Everyday Items." So sometimes things have to take a backseat. The last few days it has been blogging, and the kitchen! What a trainwreck!
So today I am back to blogging and hopping - as well as everything else. So if you are new here I would like to welcome you. If you are back for another visit WELCOME BACK! This is my personal blog. Here I talk about all the fun and happening things that happen in the Hickman Four world. - Come back Thursday and find out how "Chicken Cesar Burgers" go. I am trying something new!
I am a mom who works at home. I run Touch of Home Learning. It's a preschool entertainment company. Our website is
www.touchofhomelearning.com
, what will you find there? In-School Field Trip information (InSchool Events), free activities - dailies Monday through Saturday (today It's Raining ABC's), activity kits and e-books (shopping center) and even Young Toddler Activities. Click on Review Opps to see if you can get some free advertising for your Etsy shop, business, or R&G site!
On to the hops! All the buttons are also on the button page!
Top Ten!
Ten Fun Things Experienced Over the Last 10 Days
Creation Museum - Petersburg, KY
Husband's Random Off Day to help get things rolling!
Husband Baking His First Cake EVER!
Husband Decorating Said Cake
Kaits figured out the Fischer Price Legos (Towers are now being built)
Kaits walking around saying "Mama, Mama, Mama" - not said far often enough!
My birthday!
Mopping my kitchen floor - yep I said it .. it was fun! I got a Swifter Wet Jet.
Finishing "Undomestic Goddess" - my sister was right, great book!
Seeing Kaits get super excited when her stroller appears.
Enjoyed? - Get over to Oh Amanda and create yours!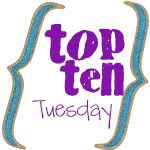 Now Learn Something New - (as if you haven't learned enough!)
1. Favorite movie? -
Right now, How to Lose a Guy in 10 Days
2. Favorite Actor/actress?
- Sandra Bullock, Julia Roberts, Jennifer Aniston (Deeply disappointed with The Bounty Hunter!) Ryan Reynolds - I am sure there are others
3. Favorite genre of movie?
- Romantic Comedies
4. Ever made out in a movie theater?
- Can't say I have.
5. Ever work in a movie theater, would you ever want to?
- I haven't, I am not sure I would want to. People can be messy!
6. What was the worst movie you have ever seen? -
I am not sure I could pick EVER - most recent disappointment, The Bounty Hunter - and You Again, not great, had great potential. Both were like listening to a monotone speech.